Pethotels lets you search for cheapest and best hotels for your furry friends. Search over hundreds of pet hotels near your are with just a few clicks
Search for pet hotels
Search over thousands of pet hotels near your area. Easily find pet hotels using our advance filter system.
Book a hotel
Find the perfect pet hotel for you and book it using our safe and easy booking system. All of our pet hotels are 100% verified.
Bring your pet
Once you've completed all the steps, wait for your booking date, bring your pet to the hotel, and have a great time!
Dog Boarding
Want to enjoy your vacation and level up your doggie parenting? Pet Hotels gives you the peace of mind that your fur babies are in good care by helping fur families find the dog boarding facility that's right for you – and your pup.
With boarding options near you, dog moms and dads everywhere are finally able to enjoy their vacations, knowing Fido is having just as much fun as they are – maybe even more.
Finding Dog Boarding
Near You with Pet Hotels
Visiting a city away from your go-to pet sitters, boarders, and vets can be overwhelming.
Pet Hotels makes it easy to find pooch-perfect boarding options in your select destinations with our simple search features. Find everything you need in one search – including reviews, helpful information, and more.
And it gets even better: the prices are so affordable, you may just have to book more trips!
Short Term and
Overnight Dog Boarding
Have an overnight work trip coming up? How about a weekend getaway? Don't put your life on hold because of high prices and questionable caretaking. 
Pet Hotels takes the guesswork out of finding your four-legged friend their own enjoyable getaway by matching pet parents with fun, safe, and trustworthy short-term boarding options – all at an affordable price.

Long Term Dog Boarding
Pet Hotels makes it easy for doggie parents to find trustworthy extended stay options for their fur babies. 
We connect you to facilities that go above and beyond to make your pup's stay something to wag about! 
Find extended stay options that care for your furry family the way you care for them. Regular play dates? Of course! Secure properties to keep your dog safe? You bet.
Cat Boarding
Plan the purr-fect vacation with customized search results for the perfect short- or long-term cat boarding options. Pet Hotels finds trusted, affordable options near you or in your destination location. Book your trip with the whole family through our vetted, reviewed, and dependable digs for your fluffy felines.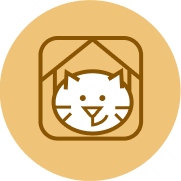 Finding Cat Boarding Near You with Pet Hotels
Traveling with pets shouldn't be hard, and neither should finding a cat boarding solution that you trust. Pet Hotels provides hundreds of trusted and affordable cat boarding options for any need. Choose from short- and long-term boarding options to keep Mittens comfortable, cozy, and cared for. We make vacations, work trips, and other boarding needs easy with our simple search function with feline focus.
Our goal is to make it easy for pet parents to book the right cat boarding for their next vacation destination – without the hassle of driving across the city for pick-up and drop-off.
Cat Only Boarding vs. Pet Boarding:
Which is Right for Your Cat?
We know that Mittens has a certain level of expectations for her stay. That's why we've teamed up with hundreds of cat boarding facilities that offer your precious furball the vacation she needs – and deserves.
We get cats – and all their quirks. Some cats don't like to be around other animals, especially dogs. No dogs? No problem! Alternatively, maybe your cat loves dogs. Or perhaps you're a dynamic family with both cats and pups and want to keep them in the same facility while you're away.
Pet Hotels helps cat moms and dads find the right fit for your fur family's needs – from cat-only boarding options to those that provide a vacation for all animals. With Pet Hotels, the power is yours!
Animal Hospitals & Animal Medical Centers Near You
At Pet Hotels, we take the health of your pet as seriously as you do. We know that your pooches and felines need more than a full belly and a litter box to be taken care of properly.
Get your fur babies the caretaking they need with Pet Hotels' search feature that finds animal hospitals and animal medical centers right near you. We know how important your four-legged children's health is, and we make sure that you can find the medical care you need.
Need health-conscious boarding for a furry feline or pampered pooch? We've got you covered. Pet Hotels helps pet parents find hospitals with boarding that offer vets on call or even on-site 24/7.
Cat & Dog Boarding Tips for Pet Parents
First-time pet parent? New to boarding your cat or dog? At Pet Hotels, we know this can be an emotional experience. That's why we've put together this list to make it less stressful to plan your pet's vacation:
Plan Ahead: Don't leave boarding reservations to the last minute. Knowing your pet will be well taken care of is a huge relief.
Read reviews and ask around: Do your friends or family have a boarding facility they rave about? Doing some research ahead of time – like reading reviews and asking your network – can take the sting out of leaving your furry family behind.
Tour the establishment: Rest easy by taking a tour of the facility ahead of time to make sure that your pup has everything they need.
Pack their things: Including their regular dog/cat food, a favorite toy or blanket, and even some treats can make your pet's vacation a smoother transition for everyone.